Four years ago today, I welcomed my beautiful little boy into the world.
My pregnancy with his was unconventional. I knew I was pregnant for approximately 15 weeks. Fifteen hard, emotional, life changing weeks. I never fully appreciated how
hard
it was on me mentally to only have that long to come to terms with it, until I was pregnant with Gremlin. When I got to 17 weeks pregnant with Gremlin, it hit me that that was the amount of time I had been pregnant with Bubba.
2 weeks pregnant (actually 28 weeks)
I'm not sure if I have really come to terms with it, or fully grasped just how different my life is because of it. Finding out I was pregnant made me veer completely of the track I was on. Completely and utterly off-track (I never wanted children, never really wanted to get married, and certainly never wanted to move so far from family).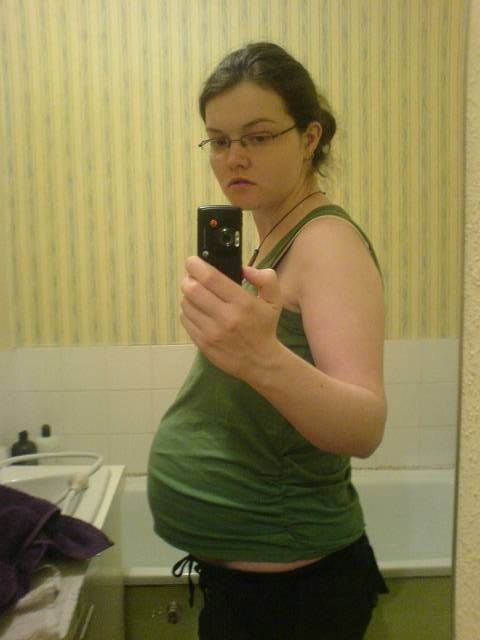 (14 weeks) 40 weeks pregnant
I went into labour at 41 weeks (making him way more punctual than little-miss-42+2 weeks). I was single, living with my parents, and Jitterbug was driving up from Sussex to be with me for my induction at 41+3. I was in labour for 24 hours, from the very very first slight-cramp contraction.
My labour was hard, and the morphine I had given to me to help the pain (9 hours before I had him) merely made me black most of it out. It is not a story I tell, simply because I don't remember most of it. He was in special care for a few hours after birth, and I don't remember why.
I love this little boy with all my heart.
Yes, he tests me. Yes, he is as stubborn as a goat. Yes, his temper is most definitely from my side. He is also a sweet, loving, caring and chatty little boy who feels no fear amongst strangers.
When he smiles, the world smiles with him.
My beautiful baby boy is not really a baby any more. Before my eyes, he is turning into an incredible boy, and I'm not sure I can take even a little of the credit!
Happy Birthday Bubba, may your wishes and dreams all come true (except the one where it snows today and Santa comes)
p.s Please take the time today to remember those lost in World War 1 & 2. Our lives would be very very different if not for the brave men and boys who went to fight.